I'm grateful, humbled and proud to receive the Microsoft MVP Award.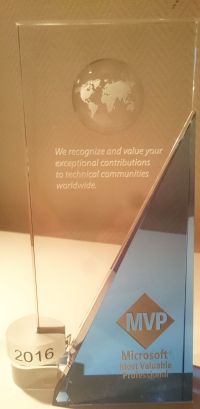 Ever since I first heard of the MVP program nearly 15 years ago I've had a great respect for those receiving the award. The MVPs I've met and got to know have all possessed that rare combination of deep technical knowledge and the social skills needed to communicated them. I've read blog posts, attended talks, watched videos, used open source and read open source by MVPs and learnt so much from them. And now I'm also an MVP. As much as I'm grateful and proud I'm also humbled (and a bit horrified) about being invited to be one of them.
Thanks for giving me the chance, now it's up to me to prove that I'm worthy of a renewal next year.