I'm not only a computer geek, I also spend considerable time renovating our home. Doing things yourself means there's plenty of opportunities to make geek-friendly adaptions, such as preparing for a good home network.
Renovating a house is a major strain for the family economy, so keeping an eye on the cost has been a priority. I'm also a bit reluctant to invest too much in today's state of the art technology, only to find out I need something else in just a few years. Considering that we've had the house for nearly 10 years things have indeed changed. Back then wired networking for computers was the main concern – now it is proper wifi coverage for all the phones and tablets that didn't even exist back then.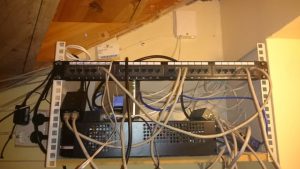 My take on a future proof investment is to install a lot of empty cable hose. Then I've pulled CAT-5e cables to those places where I actually need it. Everything converges in the cupboard under the stairs (no, it's not used as someone's bedroom) where I have a small 19″ rack. In the rack, I have my home server (more about it below) and the central switch. The white box on the wall above the patch panel is the incoming fiber.