ASP.NET Identity is the reworked, flexible replacement for the old membership system that has been around since ASP.NET 2.0. ASP.NET Identity is more well designed and flexible than the old membership system and uses Owin middleware components for external logins such as Facebook, Google and Twitter.
Compared to the membership system, the architecture of ASP.NET Identity is very much improved and decoupled. Actually, ASP.NET identity doesn't know (nearly) anything about Owin at all. ASP.NET Identity is working on an application ignorant level, taking care of user and role storage. Then there are the Owin authentication modules that takes care of the actual interaction with the external providers and keeping the user session. The plumping code required is built into the AccountController created by the new project wizard for ASP.NET projects.
Typical Layering
For a typical application there will be a number of different application layers cooperating to provide the authentication functionality.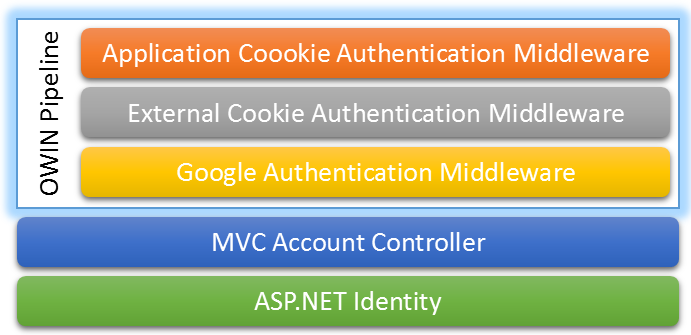 The ASP.NET Identity module sits at the very bottom of the chain, far, far away from the incoming HTTP Request. In fact, it knows nothing about Http at all.
The MVC AccountController provides all the plumbing to make the different modules interact with each other.
The Google Authentication Middleware interacts with Google to provide Google signon. In this example I only show Google, but if more social networks such as Facebook or Twitter were offered, they would be next to the Google middleware in the stack.
The MVC Acount Controller is the generated MVC controller that ties all of the layers together.
The ASP.NET Identity module handles user and secure password storage, role mapping etc.