I live in Sweden and one of the great things with that is that as a dad you can get months off for being with your kids while they are small. My youngest turned one in the end of May and a few days later I did my last day at the office for 2016. Since then I've been spending my days at home, seeing him learning new things every day. But now that period of my life is over and I'm back to work and he's started at daycare.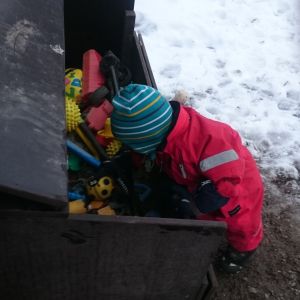 As a dad, saying good bye to him and leaving him is of course hard. He on the other hand couldn't care less. He's at a new exciting place with a lot of new interesting things to explore.
I have interesting things to explore too. The world of software development moves fast and 6 months absence from active work means things have changed. .NET Core has been released and the tooling is quickly maturing. It's time to look deeper into it and create an ASP.NET Core version Kentor.AuthServices to bring SAML2 to ASP.NET Core. But first there's the SweTugg conference where I'll do two talks. The first is a new one about real life TDD experiences with live coding real features in real projects. The second is an overview of security in ASP.NET Core.
Then there's a ton of e-mails that I've not answered to in a timely manner. I'll go through them but answering all of them will take time. There's also a queue of Pull Requests in AuthServices that need to be handled. First in line are of course those from paying customers with valid support agreements. The rest will be reviewed when I have time.
Last, but not least this also means I'm available for consulting again, so if you need some services within my areas of expertise, please get in touch.